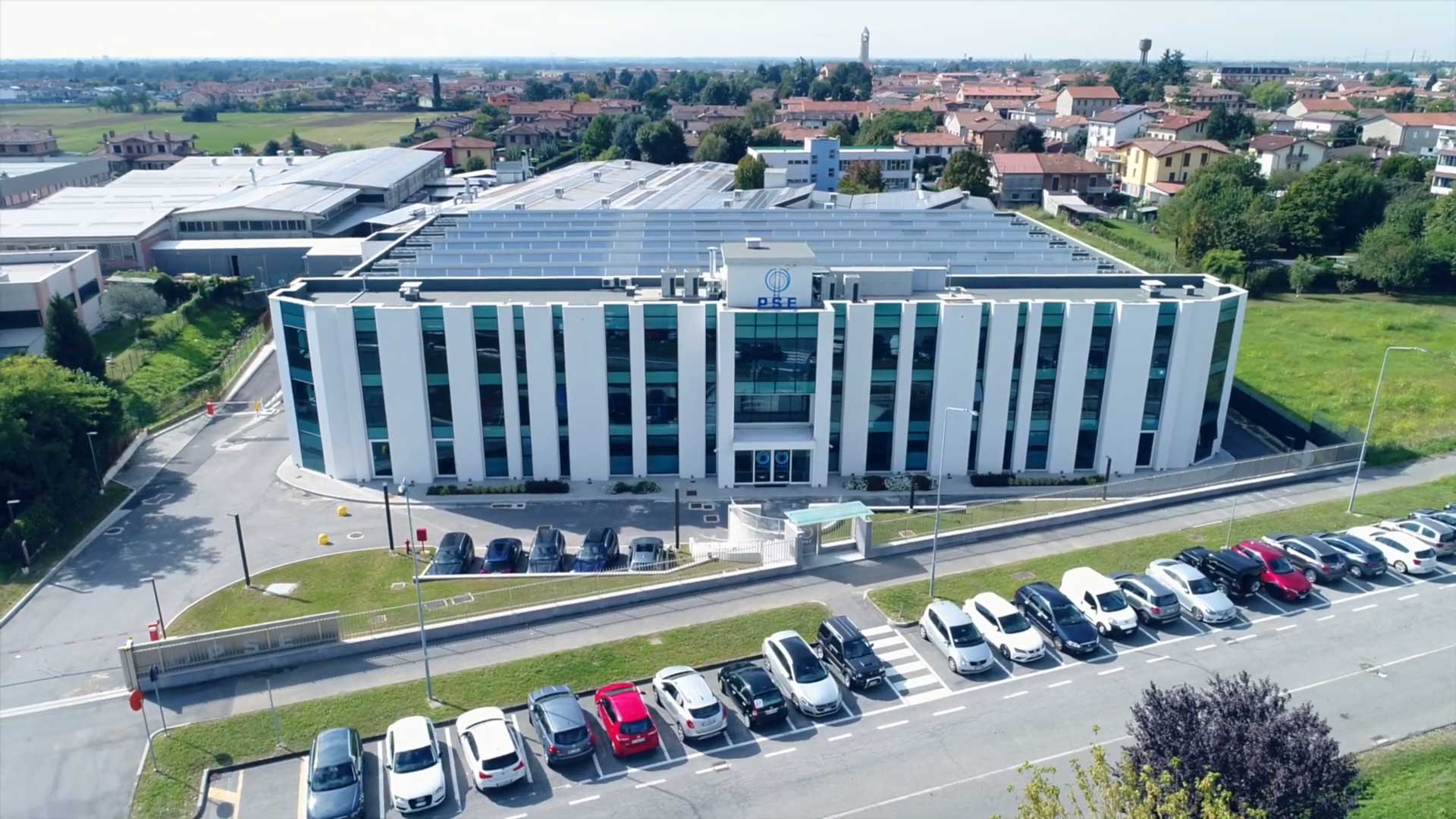 We support our clients in the feasibility study of their requests up to the "ideal" solution on the basis of application and costs.
RELIABLE, DYNAMIC AND AT THE FOREFRONT.
Precision Spring Europa Group (PSE) is one of the reference companies for the manufacturing of snap and retaining  rings,  hose clamps, stampings and die springs. We have been working since 1968 with leading clients in the Automotive, Home Appliances, Die Sets and Windpower industry. Thanks to its long-standing partnerships with major OEMs (Original Equipment Manufacturer), PSE has been capable of evolving its manufacturing, R&D and quality systems to offer a wide range of highly competitive and cost effective customized products to any needs. We support our customers from the feasibility study of their requests of products, up to the definition of the best possible customized solution at the most competitive price.
Besides the Italian parent company, our subsidiary in Germany  provides a more efficient logistic support and customer service. PSE's commitment to improve our standards of quality is demonstrated by the IATF 16949:2016and ISO 9001 certifications of our Italian plant.
VISION: Dynamism and Innovation to get the maximum trust from Clients. TRUST – DYNAMICS – EVOLUTION
MISSION: Supplying customized products at fair prices, always ensuring the highest quality standarts and a reliable logistics.
We attach great importance  to offering  our customers a direct and continuous support. A reliable customer care is the key to a successful relationship with the client.
In recent years we have implemented our ERP System, an important tool which allows an accurate and precise data exchange with our customers.
Cost saving thanks to accurate and punctual deliveries based on the customer's actual consumptions
Reliability and safety thanks to safety stocks and quick restoration of provisions;
Possibility of packaging in special boxes supplied by clients (KANBAN systems);
Delivery reliability guaranteed by a direct data exchange with customers through EDI systems or clients' portals;
Our logistic service is guaranteed both by our Headquarter and our branches.
PSE in figures
OUR EMPLOYEES OVER THE YEARS
31.12.2018: 114
31.12.2019: 112 (-2)
31.12.2020: 123 (+11)
31.12.2021: 132 (+9)
PRODUCTS
2000 different snap rings every year for the Automotive Industry
300 new prototypes each year
1000 different die springs each year
500 bending and stamped parts for different business units
COVERED AREA: 15.000 m2
PSE AREA: 25.000 m²
ENERGY PRODUCED WITH OUR PHOTOVOLTAIC SYSTEM: 500 mega watt
PSE group acquired the majority stake of TMG srl (www.tmgsrl.it) with the aim of expanding and diversifying the existing product portfolio
PSE improves its company organization with the aim of reaching increasingly challenging goals
implementation of a new ERP system, an important tool which allows an accurate and precise data exchange with our customers.
opening of the new logistic and production area as well as the new corporate offices.
PSE celebrates its first 50 years of activity!
after several years of cooperation, the colleagues of PSE France finally retired. PSE adopts the same strategy experimented with the German office, focusing both sales and logistical activities in Italy.
Sales activities were moved from the office of the German branch to Italy. PSE Germany will now handle the logistics.
From 2011 PSE presents its new logo: one company, one name, one logo.
foreign branches were renamed as PSE in order to create only one company worldwide identity to guarantee better transparency to clients, controlling all activities directly from the parent company and pursue new common goals.
PSE sold the shares of the Turkish company to focus on its core business.
the year of the crisis. The fall in sales in the automotive sector had repercussions on PSE, which had the 65% of its turnover in car industry. Despite difficult times, PSE made new investments, and in order to face a decrease in sales of 40% and get out of the crisis, new measures were introduced for the reduction of costs and working time was reduced as well.
the expected contracts with the United States were not put into effect and the Joint Venture was terminated.. In the same year, the founder of the company, Mr. Luigi Bellazzi, died. His wife, Mrs Maria Rosa Rocca, succeeded as president of the company, and his nephews Francesco and Marco Lorenti were elected Chief executive officers.
setting-up of a Joint Venture in the United States for the manufacturing of rings.
Luigi Bellazzi purchased the shares of the Peterson Family. Consequently, PSE became a 100% Italian company.
during these years, PSE purchased a majority stake of a Turkish company in order to manufacture hose clamps and bending parts for home appliances at competitive prices.
The French branch "Mediolanum France" was founded. The name Mediolanum comes from the term "Middle-earth" and refers to Milan and to the head office of the parent company "in the middle of" the Po Valley.
PSE opened a branch in Germany, called "Mediolanum Federn GmbH".
Precision Spring Europa was founded thanks to the Joint Venture between Luigi Bellazzi and the Peterson American Corporation.